Uganda is one of the poorest countries in the world, where nearly half of the population does not consume the daily required amount of calories. The vast majority of Ugandans live in rural areas where farming is a main source of income. In northern Uganda, many children are malnourished, due to staple crops that do not provide an adequate supply of vitamins and minerals. Recurring political strife and tumultuous weather patterns reduce agricultural productivity and contribute to rising food costs. Together, these factors reduce the economic stability of these small communities; widespread food insecurity is the outcome.
Leland International Hunger Fellow Anthony Slaton is working in northern Uganda as a Project Manager of Partnerships, Agriculture, and Livelihoods with Adonai Partners, a Christian nonprofit mission and development organization that serves populations in six African countries through medical, educational, nutrition, and other community-based programs.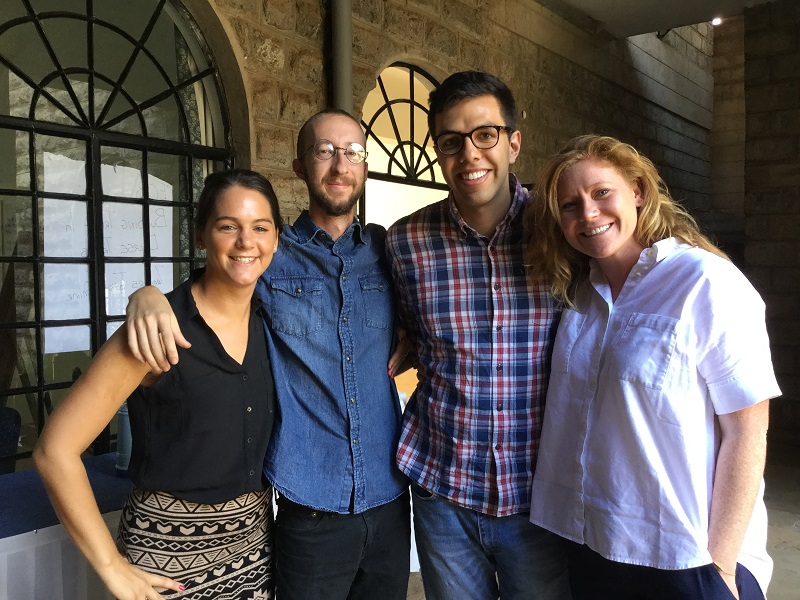 Anthony Slaton (2nd from right) with fellow Hunger Fellows (L to R) Rachel Gilbert, Tanner Roark, and Amelia Foley, at the 9th Class Mid-Field training and retreat in Nairobi, Kenya, March 2018.
Several miles of red dirt road connect the nearly 300 smallholder farmers that live in the Arut Village of northern Uganda. These roads often crisscross through fields of cassava and maize that dot this region. It has been a decade since the conflict between the Lord's Resistance Army and Ugandan military displaced this community. Today, recovery is evident not just in the landscape but also in the growth of the agricultural sector. In 2016, the agricultural sector accounted for 23% of Uganda's GDP, with the majority of production coming from smallholder farmers. Despite the abundance of agriculture in Uganda, many people continue to struggle with food security – the availability and adequate access at all times to sufficient, safe, nutritious food to maintain a healthy and active life. A Feed the Future assessment found that over 30% of families struggle with chronic food insecurity, with 60% of child mortality attributed to malnutrition. Adonai Partners, a church-based development and mission organization, is working in the northern region to understand the unique causes of food insecurity here and partner with local communities to combat these challenges.
I am about halfway through my field placement with Adonai Partners as Project Manager of Partnerships, Agriculture and Livelihoods. Our goal is to galvanize action in the Arut Village around food insecurity and work with community members to develop a nutrition-sensitive livelihood enhancement program. To accomplish these goals, and with significant help from Prof. Moses Tenywa at Makerere University, I assembled a community-based survey to measure child malnutrition, agrobiodiversity, agricultural practices, and food insecurity, with a particular emphasis on collecting data from remote homesteads. The results of this study will be disseminated to the community at large and provide direction for future programming in the area.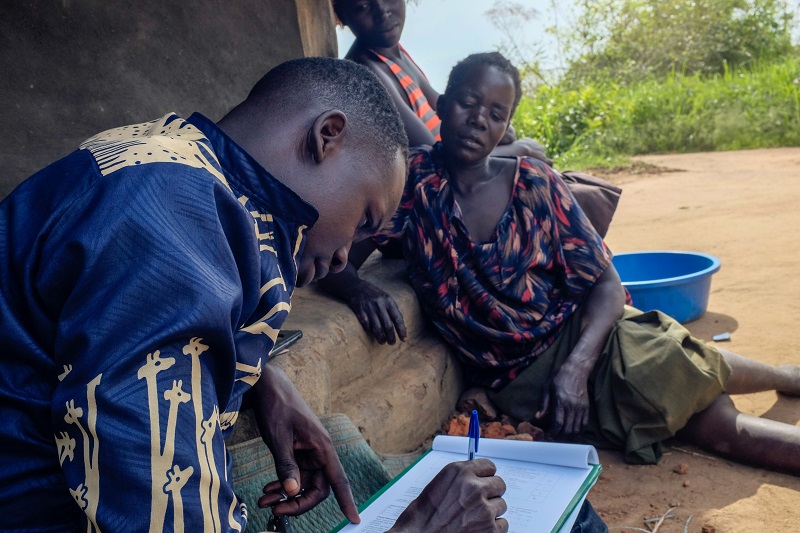 Denish Toorach (left), who grew up in the Arut Village, helping Adonai Partners administer our agriculture, livelihood and nutrition surveys to group of local women
Already, our team has discovered significant coverage gaps in vitamin A supplementation for children under five. This finding is particularly alarming in a community – such as Arut – that relies heavily on staple crops that lack essential vitamins. This information will be used during Adonai Partners' medical outreach program in the summer to improve the delivery of vitamin A supplements. In addition, our survey provides more evidence for the presence of seasonal hunger in northern Uganda. Seasonal hunger is the period of the year where food stocks from previous harvests are dwindling and labor markets are overwhelmed with people seeking work away from their farm.  We continue to find that April and May, corresponding to the first rainy season of the year, is a period when families in the Arut Village are most vulnerable to seasonal hunger.
An important element of our project is the meaningful inclusion of community members in every aspect of the study – from designing the survey to disseminating the findings. I have been incredibly lucky to partner with individuals who live in the Arut Village to help us as both enumerators and community guides. Every week, I am guided through the maze of red dirt roads by these individuals to meet with families and administer our surveys. Their understanding of the community and hospitality has been integral to the success of our team thus far. Moving forward, we intend to work with 25 local individuals to perpetuate the findings of our survey throughout the community. The feedback we receive from the results will set the foundation for a livelihood, nutrition, and agriculture curriculum that we plan to pilot during the second half of my time in the field.
During the six months I have lived in Uganda, we have visited nearly 150 families in the Arut Village to hear their stories. My time here has deepened my appreciation for the complexity of the challenges these families face. Persistent political instability, increasing food prices, and climate shocks, combined with the rise of anti-globalization sentiment, continue to threaten the livelihoods of smallholder farmers here. There are no silver-bullet solutions to these issues, but I do believe a key step is going to be reducing inequalities in access to data for decision making at the community level. There has already been a concerted effort made by donors, national and international non-government organizations, and civil society organizations to make information easily accessible for farmers. This has led to improvements in agricultural productivity, mitigation of damage caused by climate shocks, and improved access to markets for smallholder farmers. We are joining these efforts by strengthening the capacity of community members to collect data on child malnutrition and food insecurity in a manner that is standardized and comparable across nationally aggregated data; providing workshops on analyzing and presenting data for decision making in our pilot curriculum; encouraging community forums to discuss challenges identified in the data. Overall, my biggest hope for this year is that my work will equip community leaders with the tools and knowledge to measure and evaluate local progress as they work towards ending child malnutrition and food insecurity in the Arut Village.