The 2020 Hunger Leadership Awards
Our annual celebration of exemplary leaders in the fight to end hunger and poverty will be held virtually on September 16, 2020 from noon — 1:30 pm ET.
This annual event brings together leaders from government, philanthropy, the private sector, and the wider anti-hunger community to recognize distinguished leaders whose vision and commitment are paving the way to achieving zero hunger, both in the U.S. and around the world.
Read More About Past Awards Ceremonies Meet Our Award recipients
---
Support the Hunger Leadership Awards
---
Your support today makes the Hunger Leadership Awards and the ongoing work of the Congressional Hunger Center possible!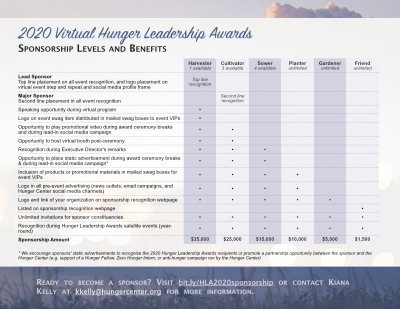 2020 Hunger Leadership Awards Sponsors
---
The Congressional Hunger Center would like to express our gratitude to the following generous sponsors of the 2020 Hunger Leadership Awards.
Albertsons Companies Foundation
Alliance to End Hunger
Bread for the World
Ed Cooney and Lynn Parker
Feeding America
Food Research & Action Center
Marshall Matz
Michael Torrey Associates
National Corn Growers Association
National Farmers Union
National Grocers Association
Ria Shah
Eric J. Steiner
The Sugar Association
Watson Green LLC
Interested in becoming a 2020 Hunger Leadership Awards Sponsor? Contact Senior Development Associate Kiana Kelly today.


---
We present outstanding leaders from the U.S. government and the nonprofit sector with the Bill Emerson & Mickey Leland Hunger Leadership Award for their significant contributions in fighting hunger in the U.S. and around the world.
AARP Foundation and Lisa Marsh Ryerson
Chef José Andrés
Rev. David Beckmann
Senator Roy Blunt
Senator John Boozman
Paul Carothers
Senator Robert P. Casey, Jr.
Senator Thad Cochran
USDA Under Secretary Kevin Concannon
Stephen & Ayesha Curry and the Eat. Learn. Play. Foundation
Representative Rosa DeLauro
Senator Elizabeth Dole
Senator Dick Durbin
Representative Jo Ann Emerson
Representative Sam Farr
Deborah A. Frank, MD, Founder Children's HealthWatch
Senator Al Franken
Representative Marcia Fudge
USDA Secretary Dan Glickman
Ambassador Tony Hall
Senator Tom Harkin
Senator Johnny Isakson
Representative Lynn Jenkins
David Kantor
Senator Herb Kohl
Representative Barbara Lee
Representative John Lewis
Senator Richard G. Lugar
Marshall Matz
Representative Betty McCollum
Joan McGlockton and the Sodexo Stop Hunger Foundation
Representative James P. McGovern

Mary Jane Melendez and the General Mills Foundation
Manly Molpus
Representative Gwen Moore
Senator Jerry Moran
Representative Donald M. Payne
Representative Collin Peterson
Representative Chellie Pingree
Senator Pat Roberts
Representative Bobby Scott
Representative Chris Smith
Senator Debbie Stabenow
Secretary of Agriculture Tom Vilsack
Representative Jackie Walorski
Jim Weill
Representative Frank Wolf
Senator Todd Young
We also recognize outstanding alums from the Bill Emerson National and Mickey Leland International Fellowships for their continued dedication to promote food security in the U.S. and around the world.
---
To our award recipients, and to all our sponsors, attendees, partners, and supporters, thank you for sharing our belief that hunger is solvable, and for all that you do to create a hunger-free world.