We are grateful to the immensely talented photographers who have agreed for their work to be highlighted on our website.  These in-kind donations are essential to the beauty of the site, and help us use images to convey our story.  Thank you to our friends, Elizabeth, Marty, Kyle and Matt.
Elizabeth Whelan
Elizabeth is an acclaimed international advocacy photographer, whose exhibit on international school feeding programs was featured at the U.S. Capitol Visitors Center. Her work has also been highlighted by Partners in Health, the World Food Program, and Bread for the World, and has been shown in various venues in Boston, Washington D.C., New York and Chicago. Elizabeth was a member of the 10th class of Bill Emerson National Hunger Fellows, served as Associate Director of the Mickey Leland International Hunger Fellows Program, and is currently a MS Candidate in Food Policy & Applied Nutrition at Tufts University. Additional work can be viewed at www.elizabethwhelanphotography.com. She can be reached at [email protected].
The following photos are credited to Elizabeth Whelan.
Marty LaVor
From www.martylavor.com:
"In 1982, Marty LaVor turned his hobby into a career as a full-time freelance photojournalist. Since that time he has taken over one million photographs. He travels extensively and has photographed in over 100 countries, specializing in candid work.  His photographs are used in newspapers, magazines, newsletters, corporate reports, political campaigns, posters and books. He has had 35 one-man exhibitions and his work is held in private collections throughout the world.
LaVor's work has received many awards, most notable, the International Photographic Council of the United Nations "Leadership Award" and the prestigious Kodak Gallery award.
He won the White House News Photographer's Association, the Southeast Professional Photographers Association's Picture of the Year award nine times and its Distinguished award eleven times, the Virginia Professional Photographers Association's Picture of the Year award nineteen times and the overall "Best in Show" twice in the East Texas International, and Photographer's Forum Magazine competitions.
Prior to his career as a professional photographer, Marty LaVor had already achieved an impressive list of personal accomplishments. He earned a Doctorate in Special Education, was an Industrial Arts teacher, a department head of a public school, Executive Director of a rehabilitation training program for retarded and physically handicapped women, Senior Professional for the Alabama Technical Assistance Corporation, Senior Federal Regional Officer for the Southeast Office of Economic Opportunity, Senior Professional Staff member for the U.S. House of Representatives Education and Labor Committee, Consultant to the U.S. Senate Committee on Aging, and Consultant to the U.S. House of Representatives Select Committee on Hunger. After he retired from the U.S. Congress he established The LaVor Group, specializing in political and public services."
Additional work can be viewed at www.martylavor.com. Marty can be reached at: [email protected]
The following photos are credited to Marty LaVor.
Matt Styslinger
Matt Styslinger is an international development photographer who's work has been published through the organizations BRAC, NextAid, and World Learning, a photography book titled "Would a Matchbox Hold My Clothes," and a Bangladeshi fashion magazine. Matt is currently a 6th class Leland Hunger Fellow working with Mercy Corps food security projects in Indonesia and Timor-Letse. Matt's career in international development has focused on the intersections of poverty, hunger, and the environment. Please click here to view Matt's Fellow profile.
The following photos are credited to Matt Styslinger.
Kyle Beach
Kyle is a freelance photographer who focuses primarily on lifestyle portraiture. His work is influenced by his rural upbringing in Eastern Carolina, and time spent living in both the Appalachian mountains and in the Nation's capitol. He is a former Hunger Center staff person who now lives in Western North Carolina.
The following photos are credited to Kyle Beach.
Xavier Cortada
The mural pictured on the top of this page was created by Xavier Cortada with the 11th Class of Emerson National Hunger Fellows.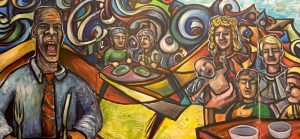 \
Hunger Exists Here: A National Message Mural. Mixed media on canvas, 2005, www.cortada.com