Above: Amb. Tony Hall at the Hunger Center's 15th Anniversary Gala, 2008.
---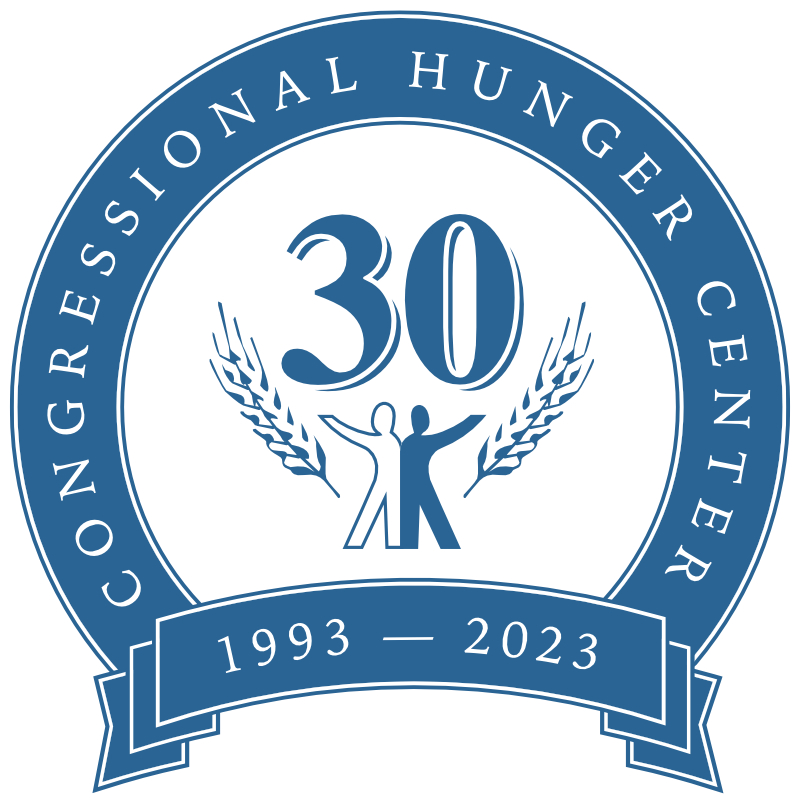 For our 30th Anniversary year we're looking back at important people and events from our past three decades, and the legacy we carry forward as we continue our work of growing leaders and cultivating change.
In our last installment we traced the history of the House Select Committee on Hunger and its bipartisan champions in the 1980s, Rep. Mickey Leland of Texas and Rep. Bill Emerson of Missouri. When Rep. Leland was tragically killed in an airplane crash while visiting humanitarian sites in Ethiopia, Rep. Tony Hall took his place as co-chair of the committee.
First elected to Congress from Dayton, Ohio, in 1979, Hall had served as a Peace Corps volunteer teaching English in Thailand, where his eyes were opened to conditions of poverty in the world.
Deeply moved by his trip to Ethiopia during the 1984-85 famine and the suffering and death he encountered there, Hall dedicated his professional career to ending hunger.
During his tenure in Congress Rep. Hall introduced or influenced many pieces of legislation in support of both domestic and international hunger relief programs, as well as the Hunger Free Communities framework which figured into the origins of the National Hunger Fellowship in 1994 (more on that in a future installment). Following his time in Congress he was tapped by President George W. Bush for the position of  U.S. Ambassador to the U.N. Agencies in Rome and was nominated three times for the Nobel Prize for his work to end hunger.
But the act for which he is perhaps most widely recognized happened in spring 1993, when the 103rd Congress allowed the Select Committee to expire, without vote or debate, under the guise of cutting administrative costs.
In response Rep. Hall embarked on a water-only fast. He was joined at times by 20 of his colleagues in Congress, including Select Committee co-chair Rep. Bill Emerson. Even President Clinton and Vice President Gore joined for a day. The fast was motivated partly to protest the elimination of the select committee, and to shame Congressional leadership for their decision. "I didn't know where I was going with it," he said in a 2016 interview with Denison College. "I knew I wasn't going to get the committee back, but I was mad at Congress."
Rep. Hall's fast went on for 22 days. "I had a brief taste of what it means to go without the most basic right of food and struggle through daily tasks, to the point of being tired just walking up a flight of stairs," Hall wrote in a 1994 Hunger Center newsletter. But word of his protest traveled widely in the media, and campus groups around the country held campaigns in support. Hall used the publicity to raise popular awareness of the issue of hunger in the U.S. and globally. At the conclusion of his fast the World Bank pledged $100 Million to fight hunger. And Rep. Hall founded two new organizations: the Congressional Hunger Caucus, and the Congressional Hunger Center.
The Caucus drew bipartisan support from over 70 members of Congress, more than triple the membership of the original Select Committee. The Caucus has been formed and reformed several times since then; its current incarnation in the House is co-chaired by Rep. James P. McGovern of Massachusetts and Rep. Tracey Mann of Kansas.
The Congressional Hunger Center was launched with funding from private foundations and corporations and a board of directors including Rep. Emerson, Rep. Alan Wheat of Missouri, Rep. Frank Wolf of Virginia, Sen. Byron Dorgan of North Dakota, and Sen. Mark Hatfield of Oregon. The inaugural executive director of the Hunger Center was Arthur E. "Gene" Dewey, formerly head of USAID's Emergency Humanitarian Assistance Office, Deputy Assistant Secretary of State Bureau of Refugees Programs, and U.N. Deputy High Commissioner for Refugees in Geneva.
From the start the Hunger Center's mission included development of leaders in the movement to end hunger and creating awareness about the issue of hunger and its causes. Today, 30 years later, these traditions remain core to our work, from the hundreds of leaders trained through our Bill Emerson National and Mickey Leland International Hunger Fellowships and Zero Hunger Internship, as well as the thousands more reached by our online Zero Hunger Academy curriculum.
Join us again next month as we recount the founding of one of our flagship leadership programs, the Bill Emerson National Hunger Fellowship.